Hiya sweeties!!
Just stopping in to share with you some thrifty finds I got this weekend!! I have not been out shopping for quit some time so it was a real treat!! The really nice thing is right in the area I do my grocery shopping they also have a Salvation Army and a Goodwill so I had to stop in you know???? ;O)
Here is some of what I brought home.................
This cute little vase simply for that pretty ROSE!

These are not actually a matching set but they go pretty well together!

These were such cute mini columns and though I personally have no idea what they are meant for I know what I can do with them ;O) I have this really cute little bird bath sitting out on one of my outdoor tables that I thought would look really cute sitting atop one of these??
How could I pass this cutie up for $1!

I had to grab that candle stick since it holds the smaller skinny candles. I have a ton of them but no where to put them and now I do!! Of course I had to grab the Cherub too ;O)


Sweet little tea set for $5!!!

No way i would pass up these pretty dishes!!
This set matches really nice with another set I already own!


Adorable French Provincial Jewelry Box! I do not know anything about it but it is in perfect working condition still, the little ballerina is perfect and plays "Love Story" and the clock still works! If anyone knows if this is vintage please do let me know, I would really appreciate it. I could not find any information on it!

Anyone know who these little ones are?
I know I have seen them before so I am thinking these are popular vintage images, maybe?! Then of course the pretty rose plaque had to come home with me as well!!
My last show and tell for today are these sweet little tree ornaments, I paid $1 for a bag of them!!
OK
friends, that is it for today!!! I hope you enjoyed your stay!!!
I just want to say, I am so grateful for the thrift stores and those people who bring their no longer wanted items to the thrift shops, thrift shopping is like therapy for me!!! So thank you Goodwill, Salvation Army etc... and all the wonderful people who
donate
!!! ;O)
I am linking up with these wonderful blog party's, be sure to check them out and join in!!!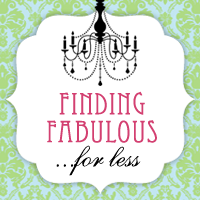 Many BIG hugs!
Tammy